Webinar "Fighting online counterfeits: a China and India 2018 case law review"
Quand :
février 18, 2019 @ 21:30 – 23:00
2019-02-18T21:30:00+01:00
2019-02-18T23:00:00+01:00
Contact :
IP Twins
+33 (0)1 42 78 93 12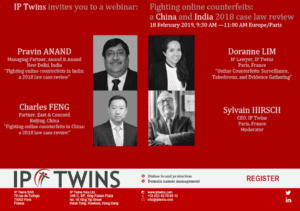 China and India have 650 and 475 million Internet users respectively. Although the part of e-commerce in the economy is relatively small, the growth curves are prodigious. Unsurprisingly, this trend is accompanied by a flood of counterfeits displayed on online marketplaces and social media. In China, as in India, trademark owners act in court, resulting in the case law becoming more detailed, particularly on the identification of counterfeiters, the obligations and liability of intermediaries or the calculation of compensation. To address these points, IP Twins has invited two leading experts in intellectual property law: Charles Feng (Partner, East Concord, Beijing), and Pravin Anand (Managing Partner, Anand & Anand, New Delhi). Mr. Feng and Mr. Anand will each present a panorama of the rich case law that occurred respectively in China and India in 2018. Indeed, legal news in the fight against counterfeiting has been particularly captivating in China (eg, with the Lego, Levi's, Dunhill, Ermenegildo Zegna) and India (eg, with the Louboutin case).Ms. Doranne Lim, from IP Twins, will present case studies concerning the detection, and the removal of counterfeits displayed on the Internet as well as gathering evidence to build a solid judicial case.